Reasons for the use of masks in open areas after the Peruvian government announced that it will no longer be mandatory in the context of COVID-19 in 2022
Palabras clave:
COVID-19, mask, reasons, risk
Resumen
Introduction: In Peru, a high proportion of fully immunized people against COVID-19 has been achieved, which has mitigated the severity of the disease. Thus, under the recommendation of experts, the Peruvian government issued Supreme Decree 118-2022-PCM, which indicated that the use of masks is optional in open and ventilated enclosed spaces as of October 1, 2022. Objective: The aim of the present study was to find out the reasons why people continued to wear masks even though it was not mandatory in outdoor environments. Methods: A total of 335 people participated, with an average age of 26.11 years (73.1% women). A data collection form was prepared where sociodemographic and health information was requested; in addition, the question "Why do you continue to wear mask despite it being optional in open and closed ventilated spaces?" was included. The data obtained from the last open question of the instrument was analyzed by means of a discursive textual analysis (DTA) and an exploratory analysis through IRAMUTEQ. Results: Results indicate that people continue to wear masks, despite the lifting of the restrictions, to avoid contagion of COVID-19 and other respiratory diseases. In addition, the prevention of possible infection and transmission of the virus also focused on the family and vulnerable people. Discussion: It is concluded that the practice of wearing masks may be influenced by individual perceptions of risk and interpretations of responsibility and solidarity towards others.
Descargas
Los datos de descargas todavía no están disponibles.
Citas
Liao M, Liu H, Wang X, Hu X, Huang Y, Liu X, et al. A technical review of face mask wearing in preventing respiratory COVID-19 transmission. Curr Opin Colloid Interface Sci. 2021; 52: 101417. https://doi.org/10.1016/j.cocis.2021.101417
Bartsch SM, O'Shea KJ, Chin KL, Strych U, Ferguson MC, Bottazzi ME, et al. Maintaining face mask use before and after achieving different COVID-19 vaccination coverage levels: a modelling study. Lancet Public Health. 2022;7(4):e356-e365. https://doi.org/10.1016/S2468-2667(22)00040-8
Howard J, Huang A, Li Z, Tufekci Z, Zdimal V, van der Westhuizen HM, et al. An evidence review of face masks against COVID-19. Proc Natl Acad Sci. 2021;118(4):e2014564118. https://doi.org/10.1073/pnas.2014564118
Lyu W, Wehby GL. Community Use Of Face Masks And COVID-19: Evidence From A Natural Experiment Of State Mandates In The US: Study examines impact on COVID-19 growth rates associated with state government mandates requiring face mask use in public. Health Aff. 2020;39(8):1419-1425. https://doi.org/10.1377/hlthaff.2020.00818
Braun B, Tarakta? B, Beckage B, Molofsky J. Simulating phase transitions and control measures for network epidemics caused by infections with presymptomatic, asymptomatic, and symptomatic stages. Plos one. 2020;15(9):e0238412. https://doi.org/10.1371/journal.pone.0238412
Chacma-Lara E, Capcha-Condor A. La pandemia del COVID-19 en Lima: Estimaciones con y sin medidas preventivas. Rev Med Chile. 2021;149(2):310-311. http://dx.doi.org/10.4067/s0034-98872021000200310
Feng S, Shen C, Xia N, Song W, Fan M, Cowling BJ. Rational use of face masks in the COVID-19 pandemic. Lancet Respir Med. 2020;8(5):434-436. https://doi.org/10.1016/S2213-2600(20)30134-X
Leung CC, Lam TH, Cheng KK. Mass masking in the COVID-19 epidemic: people need guidance. Lancet 2020;395(10228):945. https://doi.org/10.1016/S0140-6736(20)30520-1
Beckage B, Buckley TE, Beckage ME. Prevalence of face mask wearing in northern Vermont in response to the COVID-19 pandemic. Public Health Rep. 2021;136(4):451-456. https://doi.org/10.1177/00333549211009496
Badillo-Goicoechea E, Chang TH, Kim E, LaRocca S, Morris K, Deng X, et al. Global trends and predictors of face mask usage during the COVID-19 pandemic. BMC Public Health. 2021;21(1):1-12. https://doi.org/10.1186/s12889-021-12175-9
Elachola H, Ebrahim SH, Gozzer E. COVID-19: Facemask use prevalence in international airports in Asia, Europe and the Americas, March 2020. Travel Med Infect Dis. 2020;35:101637. https://doi.org/10.1016/j.tmaid.2020.101637
Palcu J, Schreier M, Janiszewski C. Facial mask personalization encouragesfacial mask wearing in times of COVID-19. Sci Rep. 2022;12(1):1-6. https://doi.org/10.1038/s41598-021-04681-y
Trading Economics. Peru Coronavirus COVID-19 Vaccination Total; 2022. https://tradingeconomics.com/peru/coronavirus-vaccination-total
Mahalik JR, Bianca MD, Harris MP. Men's attitudes toward mask-wearing during COVID-19: Understanding the complexities of mask-ulinity. J Health Psychol. 2022;27(5):1187-1204. https://doi.org/10.1177/1359105321990793
Stosic MD, Helwig S, Ruben MA. Greater belief in science predicts mask-wearing behavior during COVID-19. Pers Individ Dif. 2021;176:110769. https://doi.org/10.1016/j.paid.2021.110769
Taylor S, Asmundson GJ. Negative attitudes about facemasks during the COVID-19 pandemic: The dual importance of perceived ineffectiveness and psychological reactance. PLoS One. 2021;16(2):e0246317. https://doi.org/10.1371/journal.pone.0246317
Morata Sampaio L. ¿Tenemos miedo de quitarnos la mascarilla? The conversation; 2021. URL.
Janis IL. Effects of fear arousal on attitude change: Recent developments in theory and experimental research. Adv Exp Soc Psychol. 1967;3:166-224. https://doi.org/10.1016/S0065-2601(08)60344-5
Carvalho KMD, Silva CRDT, Felipe SGB, Gouveia MTDO. A crença em saúde na adoção de medidas de prevenção e controle da COVID-19. Rev Bras Enferm. 2021;74(Suppl 1):e20200576. http://dx.doi.org/10.1590/0034-7167-2020-0576
Ratinaud P. IRAMUTEQ: Interface de R pour les Analyses Multidimensionnelles de Textes et de Questionnaires; 2009. http://www.iramuteq.org
Souza MAR, Wall ML, Thuler ACMC, Lowen IMV, Peres AM. The use of IRAMUTEQ software for data analysis in qualitative research. Rev Esc Enferm USP. 2018;52:e03353. http://dx.doi.org/10.1590/S1980-220X2017015003353
Camargo B, Justo A. IRAMUTEQ Tutorial. Universidade Federal de Santa Catarina (Internet); 2016. URL.
Kumar J, Katto MS, Siddiqui AA, Sahito B, Jamil M, Rasheed N, Ali M. Knowledge, attitude, and practices of healthcare workers regarding the use of face mask to limit the spread of the new coronavirus disease (COVID-19). Cureus. 2020;12(4):e7737. https://doi.org/10.7759/cureus.7737
Asri A, Asri V, Renerte B, Föllmi-Heusi F, Leuppi JD, Muser J, ... Fischbacher U. Wearing a mask—For yourself or for others? Behavioral correlates of mask wearing among COVID-19 frontline workers. Plos one. 2021;16(7):e0253621. https://doi.org/10.1371/journal.pone.0253621
Camerer CF, Fehr E. When does" economic man" dominate social behavior? Science. 2006;311(5757):47-52. https://doi.org/10.1126/science.1110600
Nowak MA, Sigmund K. Evolution of indirect reciprocity by image scoring. Nature. 1998;393(6685):573-577. https://doi.org/10.1038/31225
Betsch C. How behavioural science data helps mitigate the COVID-19 crisis. Nat Hum Behav. 2020;4(5):438-438. https://doi.org/10.1038/s41562-020-0866-1
Martinelli L, Kopilaš V, Vidmar M, Heavin C, Machado H, Todorovi? Z, et al. Face masks during the COVID-19 pandemic: a simple protection tool with many meanings. Front Public Health. 2021;8:606635. https://doi.org/10.3389/fpubh.2020.606635
Markus HR, Kitayama S. Cultures and selves: A cycle of mutual constitution. Perspect Psychol Sci. 2010;5(4):420-430. https://doi.org/10.1177/1745691610375557
Chu DK, Akl EA, Duda S, Solo K, Yaacoub S, Schünemann HJ, et al. Physical distancing, face masks, and eye protection to prevent person-to-person transmission of SARS-CoV-2 and COVID-19: a systematic review and meta-analysis. Lancet. 2020;395(10242):1973-1987. https://doi.org/10.1016/S0140-6736(20)31142-9
Ajzen I. From intentions to actions: A theory of planned behavior. In J Kuhl, J Beckmann (Eds.), Action control: From cognition to behavior. Berlin, Heidelber, New York: Springer-Verlag; pp. 11-39, 1985.
Irfan M, Akhtar N, Ahmad M, Shahzad F, Elavarasan RM, Wu H, Yang C. Assessing public willingness to wear face masks during the COVID-19 pandemic: fresh insights from the theory of planned behavior. Int J Environ Res Public Health. 2021;18(9):4577. https://doi.org/10.3390/ijerph18094577
Burns AC. The expanded health belief model as a basis for enlightened preventive health care practice and research. J Health Care Mark 1992; 12(3): 32-45. URL.
Pakpour AH, Griffiths MD. The fear of COVID-19 and its role in preventive behaviors. J Concurr Disord. 2020;2(1):58-63. http://dx.doi.org/10.54127/WCIC8036
Vann RJ, Tanner EC, Kizilova E. Perceived access, fear, and preventative behavior: Key relationships for positive outcomes during the COVID?19 health crisis. J Consum Aff. 2022;56(1):141-157. https://doi.org/10.1111/joca.12439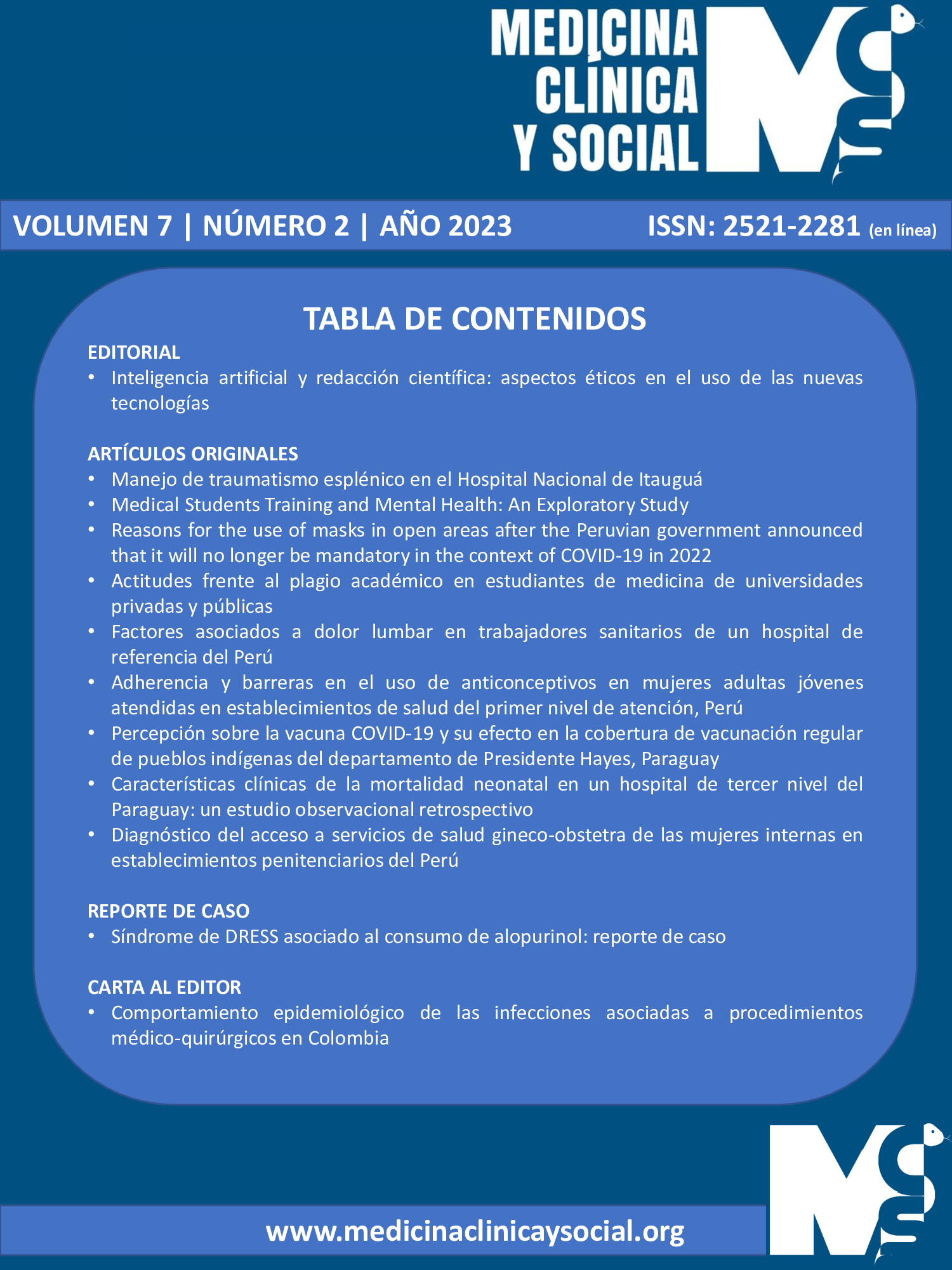 Descargas
Sección
Artículos Originales
Licencia
Derechos de autor 2023 Tomás Caycho-Rodríguez, Nicole Oré-Kovacs, Carlos Carbajal-León, Ximena Llerena-Espezúa, Daniel E. Yupanqui-Lorenzo, Julio Torales
Esta obra está bajo una licencia internacional Creative Commons Atribución 4.0.