Medical Students Training and Mental Health: An Exploratory Study
Palabras clave:
medical students, mental health, medical training, anxiety, depression, satisfaction, CAGE
Resumen
Introduction: Medical students are vulnerable to psychological distress and face a number of stressors such as academic pressures, economic concerns, and difficulties in interpersonal relationships. The quality of their educational training may also impact their mental health and subjective well-being. Objective: to describe their perception of subjective well-being and the impact of medical training on their own mental health. Methods: We surveyed 119 medical students and administered the "Perception survey on vocation, living and recreational habits, training and professional attitudes," the CAGE questionnaire, the Generalized Anxiety Disorder-7 (GAD-7) and the Patient Health Questionnaire-2 (PHQ-2). Results: Students' mean age was 22.5±2.28 years old and 59.7 % of participants were women, their lifestyle habits were scored as acceptable, and the employment of cell-phones and social networks ranged 76-99%; 24.1 % recognized a problematic alcohol, 67.2 % reported anxiety according to the GAD-7, and 49.6 % depression according to PHQ-2. Symptoms of anxiety were frequent among females and were higher when the perceived quality of training and student/teacher ratio were lower. Discussion: Students' perceptions of lower quality of training and resources seemed to be associated with higher levels of anxiety, which may suggest that educational policies and resources should be carefully revised and implemented to improve students' health and well-being.
Descargas
Los datos de descargas todavía no están disponibles.
Citas
Torales-Benítez J, Girala N, Moreno Giménez M, Arce Ramírez A, Trinidad S, Estigarribia E, et al. Depresión y ansiedad en estudiantes de medicina de la Universidad Nacional de Asunción. Rev Paraguaya Psiquiatr. 2013;1(1):7–23. URL.
Kastrup MC, Ramos AB. Global mental health. Dan Med Bull 2007;54(1):42–3. URL.
Bello A, O'Higgins M, Páez L, Torales J, Arce A. Trastorno depresivo y su asociación con la edad en pacientes de la Cátedra y Servicio de Psiquiatría, FCM-UNA. An Fac Cienc Méd (Asunción). 2015;48(2):47–58. https://doi.org/10.18004/anales/2015.048(02)47-058
González-Urbieta I, Almirón M, Torales J. ¿Estamos haciendo lo suficiente para abordar los problemas de autoestima en los estudiantes de medicina y de otras ciencias de la salud? Med Clin Soc. 2019;3(1):2–3. https://doi.org/10.52379/mcs.v3i1.73
Arrieta Vergara KM, Díaz Cárdenas S, González Martínez F. Síntomas de depresión y ansiedad en jóvenes universitarios: prevalencia y factores relacionados. Rev Clínica Med Fam. 2014;7(1):14–22. https://dx.doi.org/10.4321/S1699-695X2014000100003
Sánchez R, Cáceres H, Gómez D. Suicidal ideation among university adolescents: prevalence and associated factors. Biomédica. 2002;22:407–16. URL.
Grández Sayón M, Salazar Chávez VA, Tucto Pérez G, Matute Pnaifo E. Efecto de un programa de habilidades sociales: autoestima, asertividad y resilencia en los adolescentes del Colegio Secundario San Juan Bautista. Conoc Amaz. 2012;3(1):67–75.
Arrarte KMG, Cordero CG. Autoestima en los universitarios ingresantes de la facultad de medicina de la Universidad Nacional Mayor de San Marcos durante el año 2015. Rev Investig Apunt Psicológicos. 2016;1(1):8–20. URL.
Barrios I, Piris A, Torales J, Viola L. Autoestima en estudiantes de medicina de la Universidad Nacional de Asunción, Paraguay. An Fac Cienc Médicas. 2016;49(2):27–31. https://doi.org/10.18004/anales/2016.049(02)27-032
Camacho Cruz CS, Vera-Ovelar F. Niveles de autoestima en estudiantes de medicina de Santa Rosa del Aguaray. Med Clín Soc. 2019;3(1):5–8. https://doi.org/10.52379/mcs.v3i1.42
Torales J, Kadhum M, Zárate G, Barrios I, González I, Farrell SM, et al. Wellbeing and mental health among medical students in Paraguay. Int Rev Psychiatry. 2019;31(7–8):598–602. https://doi.org/10.1080/09540261.2019.1667172
Muñoz S. How many subjects do I need to power my study? Medwave 2014;14(6):e5995. https://doi.org/10.5867/medwave.2014.06.5995
Gosling SD, Vazire S, Srivastava S, John OP. Should We Trust Web-Based Studies? A Comparative Analysis of Six Preconceptions About Internet Questionnaires. Am Psychol. 2004;59(2):93–104. https://psycnet.apa.org/doi/10.1037/0003-066X.59.2.93
Alonso Rodríguez L, Riaza Ocio C. Encuesta a los alumnos de medicina de la Universidad de Oviedo: percepción sobre vocación, hábitos de vida y recreaciones, formación y actitudes profesionales. Bol Pediatr. 2020;60(251):18–29. URL.
Spitzer RL, Kroenke K, Williams JBW, Löwe B. A Brief Measure for Assessing Generalized Anxiety Disorder: The GAD-7. Arch Intern Med. 2006;166(10):1092. https://doi.org/10.1001/archinte.166.10.1092
Kroenke K, Spitzer RL, Williams JBW. The Patient Health Questionnaire-2: Validity of a Two-Item Depression Screener. Med Care. 2003;41(11):1284–92. https://doi.org/10.1097/01.mlr.0000093487.78664.3c
Torales J, Torres-Romero AD, Di Giuseppe MF, Rolón-Méndez ER, Martínez-López PL, Heinichen-Mansfeld KV, et al. Technostress, anxiety, and depression among university students: A report from Paraguay. Int J Soc Psychiatry. 2022;68(5):1063-1070. https://doi.org/10.1177/00207640221099416
Ewing JA. Detecting alcoholism. The CAGE questionnaire. JAMA J Am Med Assoc 1984;252(14):1905–1907. https://doi.org/10.1001/jama.252.14.1905
Caycho-Rodríguez T, Barboza-Palomino M, Ventura-León J, Carbajal-León C, Noé-Grijalva M, Gallegos M, et al. Traducción al español y validación de una medida breve de ansiedad por la COVID-19 en estudiantes de ciencias de la salud. Ansiedad Estrés. 2020;26(2–3):174–80. https://doi.org/10.1016%2Fj.anyes.2020.08.001
Bhugra D, Molodynski A, Ventriglio A. Well-being and burnout in medical students. Ind Psychiatry J. 2021;30(2):193-197. https://doi.org/10.4103/ipj.ipj_224_21
Molodynski A, Ventriglio A, Bhugra D. A crisis brewing for the healthcare system and a crisis already happening for our students. Int Rev Psychiatry. 2019;31(7-8):545-547. https://doi.org/10.1080/09540261.2019.1679491
Moberly T. Number of women entering medical school rises after decade of decline. BMJ 2018. URL.
Remes H, Sirniö O, Martikainen P. Early home-leaving (HL) and educational attainment: The moderating role of HL in the intergenerational transmission of education. Acta Sociol 2022. 65(3), 313–331. https://doi.org/10.1177/00016993211028905
Malatskey L, Essa-Hadad J, Willis TA, Rudolf MCJ. Leading Healthy Lives: Lifestyle Medicine for Medical Students. Am J Lifestyle Med 2019;13(2):213-219. https://doi.org/10.1177/1559827616689041
Edinoff AN, Nix CA, McNeil SE, Wagner SE, Johnson CA, Williams BC, et al. Prescription Stimulants in College and Medical Students: A Narrative Review of Misuse, Cognitive Impact, and Adverse Effects. Psychiatry Int 2022, 3, 221-235. https://doi.org/10.3390/psychiatryint3030018
Volpe U, Ventriglio A, Bellomo A, Kadhum M, Lewis T, Molodynski A, et al. Mental health and wellbeing among Italian medical students: a descriptive study. Int Rev Psychiatry 2019;31(7-8):569-573. https://doi.org/10.1080/09540261.2019.1654718
Sampogna G, Lovisi GM, Zinno F, Del Vecchio V, Luciano M, Gonçalves Loureiro Sol É, et al. Mental Health Disturbances and Related Problems in Italian University Medical Students from 2000 to 2020: An Integrative Review of Qualitative and Quantitative Studies. Medicina (Kaunas) 2020;57(1):11. https://doi.org/10.3390/medicina57010011
Guraya SY. The Usage of Social Networking Sites by Medical Students for Educational Purposes: A Meta-analysis and Systematic Review. N Am J Med Sci 2016;8(7):268-278. https://doi.org/10.4103/1947-2714.187131
Avc? K, Çelikden SG, Eren S, Aydenizöz D. Assessment of medical students' attitudes on social media use in medicine: a cross-sectional study. BMC Med Educ. 2015;15:18. https://doi.org/10.1186/s12909-015-0300-y
Nisar S, Alshanberi AM, Mousa AH, El Said M, Hassan F, Rehman A, et al. Trend of social media use by undergraduate medical students; a comparison between medical students and educators. Ann Med Surg (Lond) 2022;81:104420. https://doi.org/10.1016/j.amsu.2022.104420
Yang WW, Wang YX, Tan K. Sichuan Da Xue Xue Bao Yi Xue Ban 2022;53(3):426-430. https://doi.org/10.12182/20220560305
Wilkes C, Lewis T, Brager N, et al. Wellbeing and mental health amongst medical students in Canada. Int Rev Psychiatry 2019;31(7-8):584-587. https://doi.org/10.1080/09540261.2019.1675927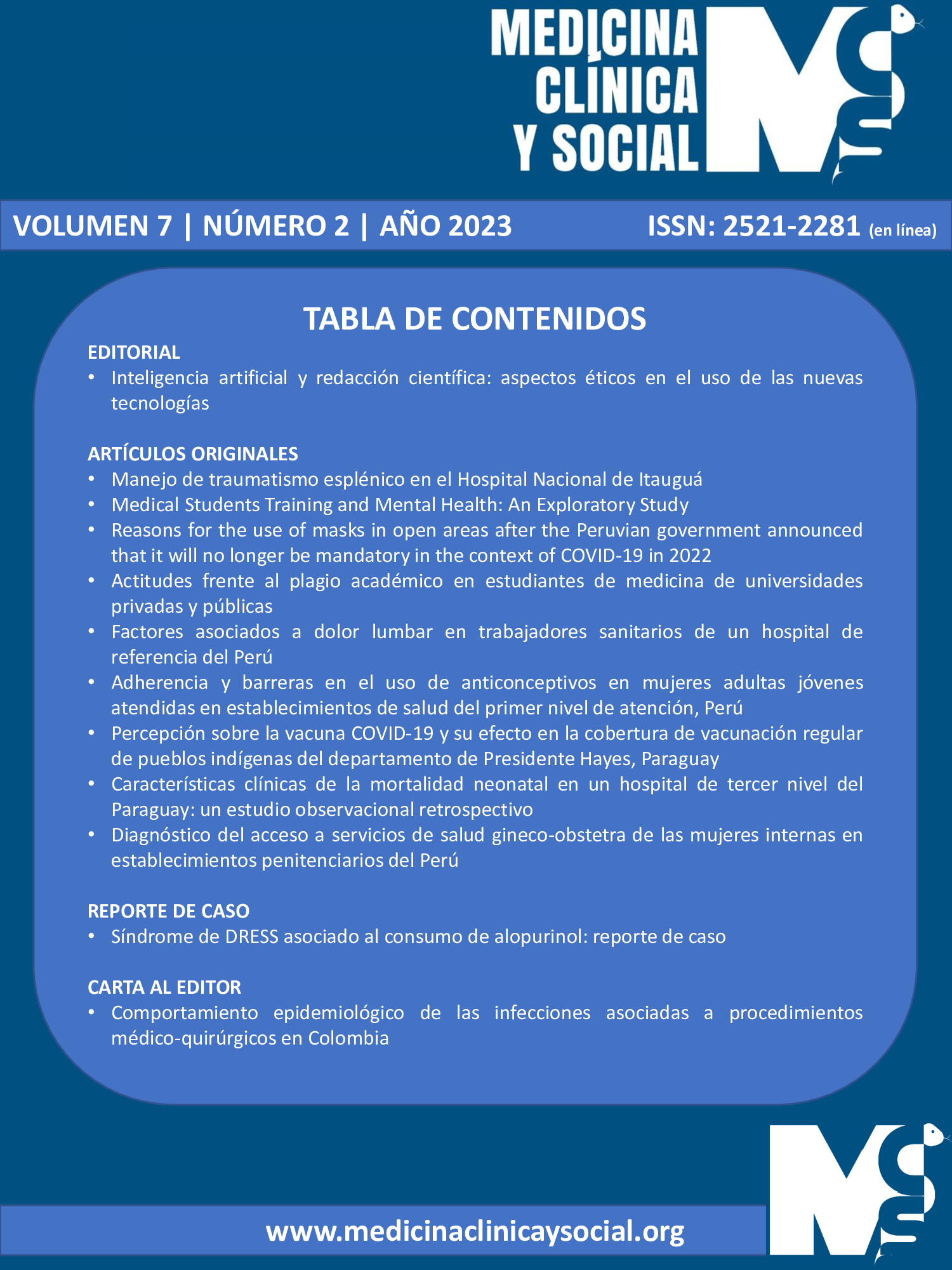 Descargas
Sección
Artículos Originales
Licencia
Derechos de autor 2023 Julio Torales, Iván Barrios, Jazmín Barrios, Hernando Báez-Osorio, Enrique Sánchez-Piris, Edis Ortigoza-Alves, Jorge Villalba-Arias, Noelia Ruíz-Díaz, Marcelo O'Higgins, Diego Amarilla, José Almirón-Santacruz, Tomás Caycho-Rodríguez, João Mauricio Castaldelli-Maia, Antonio Ventriglio, Red de Estudiantes Investigadores en Neurociencias
Esta obra está bajo una licencia internacional Creative Commons Atribución 4.0.