Un comentario sobre las creencias actitudinales sobre el comportamiento suicida en profesionales de salud del Perú
Descargas
Los datos de descargas todavía no están disponibles.
Citas
Alonzo D. The engaged community action for preventing suicide (ECAPS) model in Latin America: development of the¡ PEDIR! program. Soc Psychiatry Psychiatr Epidemiol 2023: 1-10. https://doi.org/10.1007/s00127-022-02400-0
Andoh-Arthur J, Adjorlolo S. Macro-level mental health system indicators and cross-national suicide rates. Glob Health Action 2021; 14(1): 1839999. https://doi.org/10.1080/16549716.2020.1839999
Bertolote JM, Fleischmann A, De Leo D, Bolhari J, Botega N, De Silva D, et al. Suicide attempts, plans, and ideation in culturally diverse sites: the WHO SUPRE-MISS community survey. Psychol Med 2015; 35(10): 1457-65. https://doi.org/10.1017/S0033291705005404
Bertolote JM, Fleischmann A, De Leo D, Phillips MR, Botega NJ, Vijayakumar L, et al. Repetition of suicide attempts: Data from emergency care settings in five culturally different low- and middle-income countries participating in the WHO SUPRE-MISS Study. Crisis 2010; 31: 194–201. https://doi.org/10.1027/0027-5910/a000052
Our World in Data. Suicide; 2023. https://ourworldindata.org/suicide
Contreras-Cordova CR, Atencio-Paulino JI, Sedano C, Ccoicca-Hinojosa FJ, Paucar Huaman W. Suicidios en el Perú: Descripción epidemiológica a través del Sistema Informático Nacional de Defunciones (SINADEF) en el periodo 2017-2021. Rev Neuropsiquiatr 2022; 85(1): 19-28. http://dx.doi.org/10.20453/rnp.v85i1.4152
Roman-Lazarte V, Moncada-Mapelli E, Huarcaya-Victoria J. Evolución y diferencias en las tasas de suicidio en Perú por sexo y por departamentos, 2017-2019. Rev Colomb Psiquiatr 2021. Available online. https://doi.org/10.1016/j.rcp.2021.03.005
Alonzo D, Zapata Pratto DA. Mental health services for individuals at risk of suicide in Peru: Attitudes and perspectives of mental health professionals. Int J Soc Psychiatry 2021; 67(3): 209-18. https://doi.org/10.1177/0020764020946786
Giacchero Vedana KG, Magrini DF, Zanetti ACG, Miasso AI, Borges TL, dos Santos MA. Attitudes towards suicidal behaviour and associated factors among nursing professionals: A quantitative studyJ Psychiatr Ment Health Nurs 2017; 24(9-10): 651-9. https://doi.org/10.1111/jpm.12413
Siau CS, Wee LH, Yacob S, Yeoh SH, Binti Adnan TH, Haniff J, et al. The attitude of psychiatric and non-psychiatric health-care workers toward suicide in Malaysian hospitals and its implications for training. Acad Psychiatry 2017; 41: 503-9. https://doi.org/10.1007/s40596-017-0661-0
Pisani AR, Murrie DC, Silverman MM. Reformulating suicide risk formulation: from prediction to prevention. Acad Psychiatry 2016; 40: 623-9. https://doi.org/10.1007/s40596-015-0434-6
Burgess P, Pirkis J, Morton J, Croke E. Lessons from a comprehensive clinical audit of users of psychiatric services who committed suicide. Psychiatr Serv 2000; 51(12): 1555-60. https://doi.org/10.1176/appi.ps.51.12.1555
Brown GK, Beck AT, Steer RA, Grisham JR. Risk factors for suicide in psychiatric outpatients: A 20-year prospective study. J Consult Clin Psychol 2000; 68(3): 371–7. https://doi.org/10.1037/0022-006X.68.3.371
Botega NJ, Silva SV, Reginato DG, Rapeli CB, Cais CF, Mauro ML, et al. Maintained attitudinal changes in nursing personnel after a brief training on suicide prevention. Suicide Life Threat Behav 2007; 37(2): 145-53.
Goldblatt MJ, Maltsberger JT. Countertransference in the treatment of suicidal patients. In D. Wasserman & C. Wasserman, eds. Oxford Textbook of Suicidology and Suicide Prevention. A global perspective. Oxford: Oxford University Press; p. 389–393; 2009.
Cross WF, Seaburn D, Gibbs D, Schmeelk-Cone K, White AM, Caine ED. Does practice make perfect? A randomized control trial of behavioral rehearsal on suicide prevention gatekeeper skills. J Prim Prev 2011; 32: 195-211. https://doi.org/10.1007/s10935-011-0250-z
Suokas J, Suominen K, Lönnqvist J. The attitudes of emergency staff toward attempted suicide patients: a comparative study before and after establishment of a psychiatric consultation service. Crisis 2009; 30(3): 161-5. https://doi.org/10.1027/0227-5910.30.3.161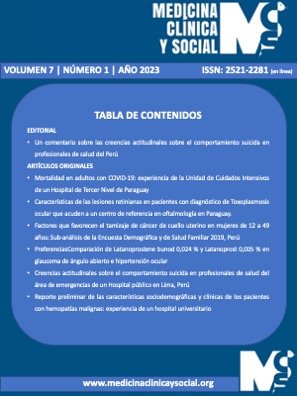 Licencia
Derechos de autor 2023 Tomás Caycho-Rodríguez
Esta obra está bajo una licencia internacional Creative Commons Atribución 4.0.