Frecuencia de depresión en estudiantes de medicina de la Universidad Nacional de Caaguazú, 2017.
Frequency of depression in medical students of the National University of Caaguazú, 2017
Aldo Ismael Rodríguez Castro

Facultad de Ciencias Medicas, Universidad Nacional de Caaguazú, Cnel. Oviedo, Paraguay

Carlos Miguel Rios-González

Facultad de Ciencias Médicas, Universidad Nacional de Caaguazú, Cnel. Oviedo – Paraguay.
Resumen
Introducción: En los últimos años la depresión se ha constituido como uno de los problemas psicosociales que ha sumado más interés en materia de salud pública. En estudiantes de medicina y médicos este trastorno ocupa un importante lugar entre las patologías que más afectan a esta población. Objetivo: Determinar la prevalencia de depresión en estudiantes de medicina de la Universidad Nacional de Caaguazú durante el 2017. Metodología: Se realizó un estudio observacional, descriptivo de corte transversal, con muestreo probabilístico aleatorio simple, para el diagnóstico de depresión se utilizó el inventario de Aaron Beck. Los datos se expresan en tablas de frecuencias. Resultados: Fueron incluidos 228 estudiantes de medicina, de edades comprendidas entre 19 a 43 años, 60,96% de los participantes fueron del sexo femenino. El 41,23% de los estudiantes participantes del estudio tenían depresión intermitente, el 29,82% tenían leve perturbación del estado de ánimo y 14,47% depresión moderada.  Discusión: El 56,58% de los estudiantes de medicina participantes del estudio padecían de algún grado de depresión, y la mayor proporción de estos casos padecían depresión intermitente.
Citas
1. Marcus M, Yasamy MT, van Ommeren M, Chisholm D, Saxena S, others. Depression: a global public health concern. WHO Department of Mental Health and Substance Abuse 2016;1:6–8.
2. Moussavi S, Chatterji S, Verdes E, Tandon A, Patel V, Ustun B. Depression, chronic diseases, and decrements in health: Results from the world health surveys. Lancet (London, England). 2015;370(9590):851–8.
3. Koochaki GM, Charkazi A, Hasanzadeh A, Saedani M, Qorbani M, Marjani A. Prevalence of stress among iranian medical students: A questionnaire survey. Eastern Mediterranean health journal = La revue de santeÌ de la MeÌ diterraneÌ e orientale = al-Majallah al-sÌ£ihÌ£hÌ£iÌ"yah li-sharq al-mutawassitÌ£. 2014;17(7):593–8.
4. Sherina MS, Rampal L, Kaneson N. Psychological stress among undergraduate medical students. Med J Malaysia. 2014;59(2):207–11.
5. Colman, I., Wadsworth, M. E., Croudace, T. J., & Jones, P. F. Psychiatric outcomes following assessment for depression disorder in adolescence. The American Journal of Psychiatry, 2014; 164, 126-133.
6. Bramness JG, Fixdal TC, Vaglum P. Effect of medical school stress on the mental health of medical students in early and late clinical curriculum. Acta Psychiatr Scand. 2014;84(4):340–5.
7. Naidoo S, Van Wyk J, Higgins-Opitz SB, Moodley K. An evaluation of stress in medical students at a south african university. South African Family Practice. Taylor & Francis; 2014;56(5):258–62.
8. Fahrenkopf AM, Sectish TC, Barger LK, Sharek PJ, Lewin D, Chiang VW, et al. Rates of medication errors among depressed and burnt out residents: prospective cohort study. BMJ (Clinical research ed). 2016;336(7642):488–91.
9. Frank E, Biola H, Burnett CA. Mortality rates and causes among u.S. physicians. Am J Prev Med. 2015 Oct;19(3):155–9.
10 Vitaliano PP, Maiuro RD, Russo J, Mitchell ES. Medical student depression in the world, a meta-analysis. A longitudinal study.J Nerv Ment Dis. 2014; 177(2):70-6.
11. Gómez Oviedo J, Bogado Oviedo J, Cardus SM, Arbe Vera Y, Rios-González CM, González Ferreira F . Sintomatología ansiosa y depresiva en estudiantes de Medicina de la Universidad Católica Campus Guairá, 2017. CIMEL.2018; 23(1). doi:10.23961/cimel.v23i1.1070
12. Barrios I, Torales J. Salud mental y calidad de vida autopercibida en estudiantes de medicina de Paraguay. Rev Cient Cienc Méd. 2017; 20( 1 ): 5-10.
13. Lange F, Peiton D, Steinert Y, Mcnigan M, Young SN. Stress and depressed mood in medical students, at California University. Acad Med 2014; 72(8):708-14.
14. Gaviria S, Rodríguez MA, Álvarez T. Prevalencia de depresión en estudiantes de medicina de la Universidad del Valle, Colombia. Rev. col. neuro-psiquiatr. 2014;40(1):41-46.
15. Givens JL, Tjia J. Depressed medical students' use of mental health services and barriers to use. A meta-analysis. Acad. Med. 2015; 77(9):918-21.
16. Alvial T, Kitamura T. Personality traits as risk factors of depression and anxiety among japanese students. Journal of Clinical Psychology 2016; 62(1): 97-109.
17. Audin K, Barkham M, Bewick B, Bradley M, Cooke R. Measuring, monitoring and managing the psychological well-being of university students and general population. British Journal of Guidance & Counselling 2014; 34: 505517.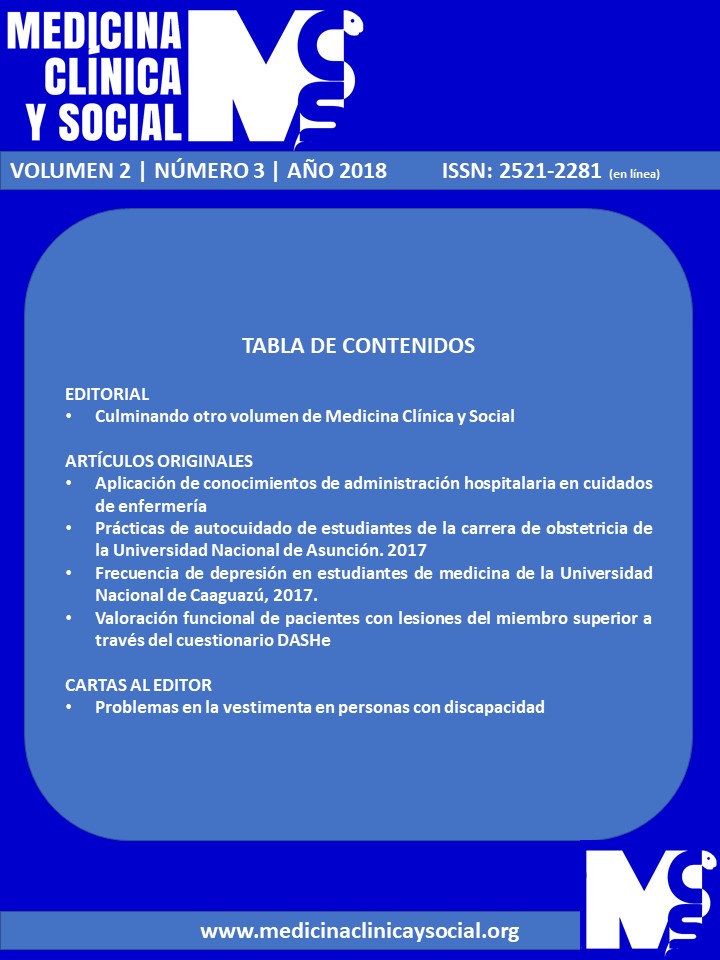 Sección
Artículos Originales

Esta obra está bajo una Licencia Creative Commons Atribución-NoComercial 4.0 Internacional.